thread collective was founded to support
the collaborative interplay between architecture and its site, seeing landscape as an integral part
of the overall design. A multidisciplinary practice, with architecture, landscape, planning, and sustainability expertise working together seamlessly, thread has the creativity and experience to produce compelling, successful projects. thread collective creates sustainable architecture that is experiential, formally resolved, and well-detailed.
We have offices in Brooklyn and Newburgh. 
seamless architecture PLLC, doing business as thread collective 
thread collective explores the seams between building, city, and the environment, stitching together these diverse elements through innovative design and research.  Our architecture projects include ground up residential architecture, both urban infill and stand alone homes, substantial interior renovations,  commercial interiors, and cultural buildings working from an extensive and deep knowledge base with over 18 years of practice.
We are innovative and proactive, providing creative ideas that ignite a project. Each project begins with a thorough articulation of the program and extensive site research, together serving as the foundation for the design process. Our experience shows that this initial ground-work creates a fertile territory for inventiveness – and ensures that the ideas are well calibrated to the requirements of the project. Testing ideas, assessing their strengths and weaknesses, and refining them through an iterative process ensures the development of conceptual ideas into beautiful and practical building and spaces.  are developed successfully through completion.
Our landscape projects include public space, residential landscape, green roof design, urban agriculture advocacy and design, and green infrastructure. The studio links innovative and elegant design with multiple ecological and social benefits, including stormwater management, biodiversity, quality public space, and community engagement.
As a hybrid architecture and landscape practice, thread collective's designs explore and are situated within local cultural and environmental ecosystems. Influenced by the non-equilibrium paradigm that posits open, dynamic ecosystems constantly adapting to disturbance, and that places humans within the ecological world this nuanced understanding of site is a major driver in our design process.
thread collective is thrilled to support organizations whose missions we are passionate about. With sustainability's triple bottom a core principle of thread collective, we have worked on a number of projects with not for profits whose visions we share.  These include the design of the Brooklyn Center for the Urban Environment headquarters, multiple collaborations with the Gowanus Canal Conservancy, including the design of a field station to support and model their STEM curriculum and a new green infrastructure design curriculum, an emergency preparedness art kiosk with WE ACT, and a community design process with HELP USA for a new courtyard in a low-income housing project.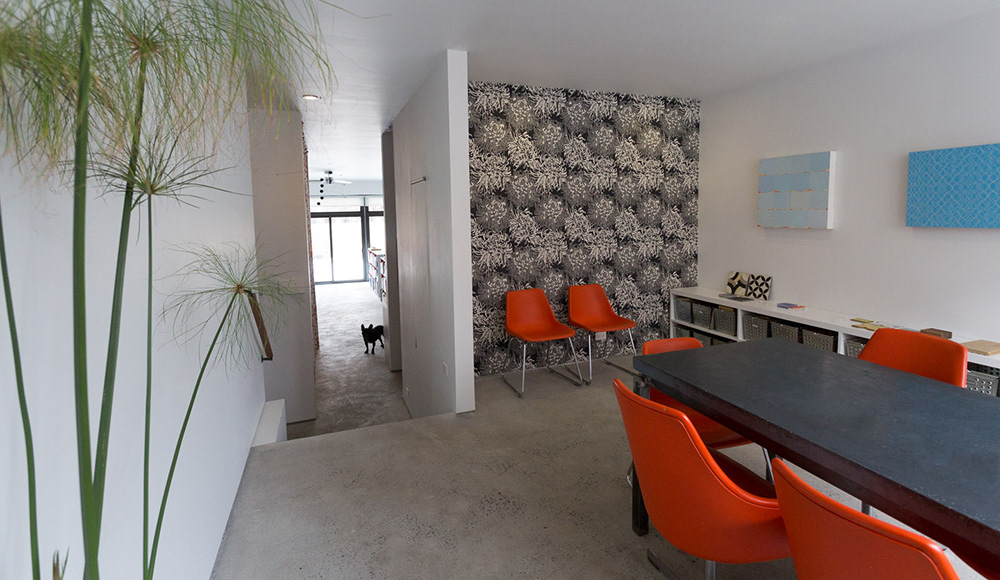 Ms. Nandan believes in sustainability as a holistic and supple design approach, integral to all aspect of design and construction.  She is at the forefront of sustainability in New York, having served in various roles to help shape public policy, most recently board co-chair of the New York Rising Community Reconstruction Program Red Hook Community Committee ; member of the Homes Committee for Urban Green Codes Task Force (2012); and the Building Resiliency Task Force (2013). Gita further puts her beliefs into practice as an architectural educator, currently a visiting assistant professor at Pratt Institute and the School of Visual Arts where she teaches the Green Infrastructure Studio, Sustainable and Resilient Existing Building Design and thesis. Gita received her Master of Architecture from UC Berkeley and is a registered architect in New York and New Jersey, an accredited LEED professional and Enterprise Green Communities Technical Assistant.
contact Gita : gita@threadcollective.com
Mark Mancuso is interested in the ambiguity of architectural environments, the transition where spaces overlap through permeable edges, the concurrence where architecture allows for coincidental possibilities and varied experience. He has overlayed this philosophy with a pragmatic knowledge of building code and detailing in his 20 years experience in the design of cultural and residential buildings. With a unique skill set that combines both artistic abstraction and engineering precision, Mark can conceive a building that is both beautiful and buildable, seeing the "big conceptual picture" and the minute details simultaneously. Prior to founding thread, Mark worked for Eight Inc. in San Francisco. He has received a Master of Architecture from UC Berkeley and a Bachelor of Science in Architecture from the University of Michigan, and is a New York and Minnesota State Registered Architect.
contact Mark : mark@threadcollective.com
Ms. Maltby believes that art and design can improve the sustainability and vitality of the urban environment. She brings a detailed and nuanced understanding of landscape elements to each project, including how plants can be compelling design elements, carrying sensory experiences and cultural narratives, while also providing ecosystem services. Her research explores the influence ecological conditions have on the current built and cultural environment. Most recently, she has detailed the history of Collect Pond, identifying its widely varied influence on the contemporary city ranging from our municipal water supply to the founding of Chase Manhattan Bank. In addition to working with architects, Ms. Maltby has collaborated over the years with artists and scientists to creatively address urban design, climate change, and resiliency. She is an Adjunct Associate Professor of Graduate Architecture and Urban Design at the Pratt Institute.
contact Elliott : elliott@threadcollective.com​​​​​​​
thread collective

's commitment to building a low carbon, resilient and sustainable world has been a core principle since our inception, and is at the heart of our design process. We see our role not just as architects but as visionaries and leaders to help transform design, and collective thinking to create buildings and environments that will support a more just, creative, and resilient future.
thread collective works at a wide range of scales; specifying non-toxic interior finish materials to detailing energy efficient building envelopes to systems thinking in urban landscapes. It is the intersection, and integration of these scales of design where we find the most successful sustainable advancements for our clients. Incorporating a sustainable design process from the outset of a project ensures a cohesive well thought out building with well integrated systems, achieving maximum efficiencies without sacrificing aesthetics.
The decision making process is one of the most challenging aspects of resilient and sustainable design. thread collective's skills as educators brings a deep understanding of how to situate problems, clarify issues, and broaden discussion through design, informing our clients to help them understand and select the best solutions.
In 2012, Superstorm Sandy brought devastation to New York City, but we also look at it as an opportunity, bringing an awareness to NYC residents about resiliency that will hopefully lead to a better policies, smarter building practices, and sustainable landscapes. While resiliency is the word of today, thread views our work in this field not as a way to bounce back, but as a way to think forward. thread collective has been involved since the day after the storm to help NYC recover and build a more resilient=sustainable cityscape; working with the Urban Green Council's Building Resiliency Task Force to make recommendations to City Council on transforming the NYC Building Code, Governor Cuomo's NY Rising Community Reconstruction Program in Red Hook to help create a resilient neighborhood plan, and Pratt Institute's Recovery Adaptation and Mitigation Program (RAMP).
Over the past decade we have worked with many experts in the field, beta tested cutting edge design tools and navigated agencies to help our clients achieve our common sustainable goals : Sefaira, NYSERDA, the Energy Star Program, LEED and Passive House.
thread collective is member of the following organizations that support our commitment to resiliency=sustainability :
seamless architecture PLLC d/b/a thread collective
The firm is certified as a women-owned business enterprise (WBE) by New York City, and New York State.   Please find official certification here.
Gita Nandan is a LEED Accredited Professional, and active member of the Urban Green Council.  thread collective offers LEED certification to clients who want to establish a deeper commitment to sustainability and provide third party guarantees to their projects.  With over 15 years in sustainable design thread offers an integrated approach to achieving LEED, from strategic planning to interior detailing, bringing issues to the forefront of a project from day one of the project.
+

TroutHouse, LEED Homes Gold, awarded 2013
6,000sf mixed use, home to thread collective's offices
+

E7 Residences, LEED NC Silver target, under certification review
6,000sf condo building
+

BCUE, LEED – CI Gold, project put on hold
16,000sf non-profit headquarters
​​​​​​​